Prevention
"Dear Dr Cameron and Professional Staff,
It's always a pleasure to visit your lovely office and be greeted by the smiling faces. We are proud to be counted among your dental patient family and enthusiastically recommend you to our friends. You have given us the privilege of maintaining most of natural teeth into our golden 80 years. It gives us much to smile about and we appreciate it. God bless you and yours as you share your labor of love for all of us."
— Robert and Thelma Harmon, April 2008
We actively aid our patients in obtaining a lifetime of good dental health. We thoroughly examine your teeth, gums and bone structure, emphasize good oral hygiene, and offer these preventive care services:
Regular Checkups & Exams
From the moment you arrive at our Johnson City practice you will be treated with professional and comforting care. During your initial exam you will be screened for oral cancer, given diagnostic x-rays for examination, gum disease evaluation and an update on your current dental health. Dr. Angela R. Cameron encourages our patients to visit on a regular basis in order to prevent disease before it happens.
Cleanings
Our certified dental hygienists are the best. The individual care you will receive includes removal of plaque and tarter from your teeth and gum line and polish them to remove common stains.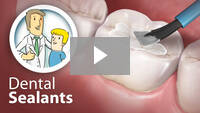 Sealants
We offer sealants for both our adult and pediatric patients. A sealant is a tooth colored or clear plastic material that adheres to your natural tooth enamel. The benefits of sealing common pits and grooves against tooth decay can be an effective and affordable means to head off future decay problems.
Periodontics
Healthy gums make healthy teeth. At Sophisticated Smiles we continually search for signs of early gum disease so it can be treated non-surgically prior to becoming a major problem. Our staff is highly trained in a soft tissue management program and we are continually pursuing continued education in this field to better serve our Johnson City and Tri City residents with premier care and service.
Related Oral Hygiene Articles
Oral Hygiene – Dental Health for Life
The best tools for maintaining your oral health and minimizing dental problems are a quality toothbrush, toothpaste, a roll of dental floss, approved mouthwash and good diet. Unfortunately, myths and folklore abound on how and what to use to best effect. This article cuts through the confusion with a winning game plan for oral health... Read Article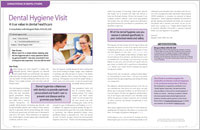 Dental Hygiene Visit
Each dental hygiene visit begins by reviewing your health history to identify issues that may necessitate special precautions during dental hygiene care to ensure your safety and to prevent medical emergencies... Read Article
Flossing - A Different Approach
Flossing is important but challenging for some - this approach may make your life easier! Research suggests that while most people will habitually brush their teeth, developing a flossing habit is still a bit more difficult. Flossing however, remains the best method for most effectively removing plaque from between the teeth where the brush won't reach... Read Article