Implant Dentistry
I did not know a trip to the dentist could be anything but uncomfortable. Wow, a heated neck wrap and throw for my legs and all those gentle voices saying everything is going great. You are doing very good. All the staff is awesome, what good vibrations flow in your office.
— F. Greer
Dr. Angela R. Cameron has the experience to educate and provide quality implant dental restoration care right here in Johnson City, TN and serving the entire Tri-City region with this procedure for young and senior patients alike.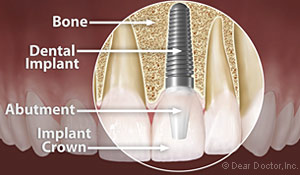 Implant Knowledge:
If you are missing one or more teeth, you want replacements that are as natural as possible. Implants are the closest thing to having natural teeth! It is critical to replace the tooth root in conjunction with the visible part of the tooth (the crown) because the natural tooth roots, which are embedded into the bone, hold the bone in place and preserve the bone. Without this structural support the bone deteriorates. This is called bone resorption.
Without an implant a patient would likely experience a collapsed facial profile, a dramatic increase of wrinkles around the mouth and compromised lip support.
This can be avoided through preserving the bone through a dental implant. When the implant is inserted into the jaw, a bond is formed and the jawbone grows into the implant.
The outcome is a durable perfect fit that is as good or often better than your original teeth.
Preserves the integrity of your facial structure
Comfortable biting and chewing
Improves speech
Allows you to broaden your food options
No compromise of adjacent teeth
Hygiene is made easy again
Eliminates adhesives
If you have an existing implant and need follow-up care call or stop by our office and we will schedule your dental appointment in a time valued manner.
Related Dental Implant Articles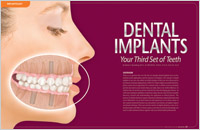 Dental Implants – Your Third Set of Teeth
A discovery fifty years ago paved the way for one of dentistry's most exciting, natural looking and successful tooth replacement systems. Learn how dental implants might just possibly change your life... Read Article
The Hidden Consequences of Losing Teeth
For those missing even one tooth, an unsightly gap is actually the least significant problem. What's of far greater concern is the bone loss that inevitably follows tooth loss. Dental implants fused to the jawbone can preserve bone, improve function and enhance psychological well-being. Learn how implants serve both as anchors to support replacement teeth, and preserve bone as one of the better preventive maintenance procedures in dentistry... Read Article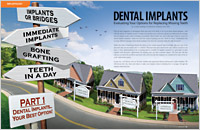 Dental Implants - Evaluating Your Options for Replacing Missing Teeth
As we guide you through the marketing hype you'll see that well planned implants most often require a team approach in assessing whether they're right for you. Not only are they a better treatment choice, they will last longer, possibly a lifetime, making them the right choice and the most cost effective option long term... Read Article
Implant Overdentures for the Lower Jaw
Implant overdentures represent a major change for the dental profession and the public. The lower jaw two-implant overdenture may be considered a more appropriate starting point over regular dentures... Read Article