Family Dentistry
"Preventive dentistry can extend human life ten years."
— Charles Mayo, founder of the Mayo Clinic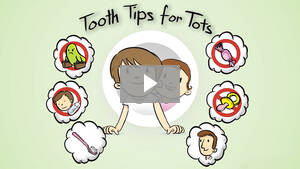 Developing a healthy oral routine with your family and integrating regular checkups will provide you and your loved ones with preventative dental care. Recognizing the importance of maintaining optimal dental health will enable children to lead happier and healthier lives. We understand that our patients lead busy and active lifestyles, and we strive to accommodate schedules. Call Sophisticated Smiles in Johnson City today and schedule yourself and a family member, and we will schedule you accordingly, eliminating extra visits. Dentist Angela R. Cameron understands that every smile is precious.
We invite parents to become our partners in educating their little ones about dental care and dental procedures. Our staff goes the extra mile with gentle cleaning, positive reinforcement and the extra touches that will soothe any family member.
Here are some tips for parents interested in developing and maintaining healthy oral habits for their children.
We recommend regular fluoride treatments to strengthen enamel and resist decay. Whenever possible, drink fluoridated water and always use an ADA-accepted fluoridated toothpaste.
Dental sealants can provide a further layer of protection against cavities. The plastic coating is painted on the grooved chewing surfaces of the back teeth.
Oral care should begin soon after birth. Gums should be cleaned after each feeding. You can begin brushing your child's teeth as soon as they appear. Always clean your infant's gums after feeding. Wipe gums with a clean, damp cloth or gauze pad.
Parents should brush children's teeth daily with a soft wet toothbrush and a pea sized amount of fluoride toothpaste.
Schedule a dental visit between 6-12 months of age. Supervise your child's brushing to ensure proper brushing habits.
If you give your baby a bottle at a nap or bedtime, fill it with plain water - not milk, formula or juice.

Click the images above to zoom in.

Related Children's Dentistry Articles
Dentistry and Oral Health for Children
As part of our special section on oral health topics affecting kids, Dear Doctor brings you this wide-ranging overview of milestones and transitions in your child's dental development. Learn how to protect your children from tooth decay, dental injuries, and unhealthy habits while getting them started on the road to a lifetime of oral health and general well-being... Read Article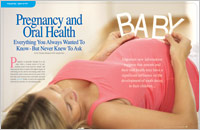 Pregnancy & Oral Health
Pregnancy is generally thought of as the time when a woman strives to be particularly aware of the need for "health". Many women though may not be aware of the link that exists between their oral health and their systemic (general) health, as well as the impact that many other factors can have on a developing child. Learn about how to care for yourself and your baby... Read Article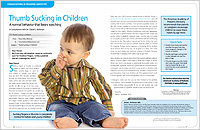 Thumb Sucking in Children
A normal behavior that bears watching... Read Article
How to Help Your Child Develop the Best Habits for Oral Health
Proper oral health habits are easy to learn - and lead to behaviors that result in life-long dental health. And the time to begin is as soon as your child's first baby teeth appear. From tooth-brushing for your toddler to helping your teenager stay away from tobacco, Dear Doctor offers the most important tips for healthy habit formation through childhood and beyond... Read Article
Top 10 Oral Health Tips For Children
There's no need to wait until your baby actually has teeth to lay the foundations for good oral or general health. In fact, good nutrition and oral hygiene can start right away. It is up to you to develop the routines that will help protect your child from tooth decay and other oral health problems. So let's get started... Read Article